Two people are missing and seven are in a critical condition after a large explosion in the Latin Quarter of central Paris, police have said.
At least 30 people are injured in total after the blast set buildings on fire, left rubble strewn across a street, and sent a plume of black smoke across the French capital.
It also blew out windows and caused the facade of the Paris American Academy design school, which is popular with foreign students, to collapse.
Interior minister Gerald Darmanin said there was a blaze on Rue Saint-Jacques in Paris's fifth arrondissement, close to the Jardin Du Luxembourg and Sorbonne University.
The local deputy mayor Edouard Civel referred to a gas explosion in a Twitter post and witnesses told French channel BFM TV there had been a strong smell of gas moments before the blast.
However, Paris police spokeswoman Loubna Atta said it was too early to determine the source of the fire and could not confirm reports it was caused by gas.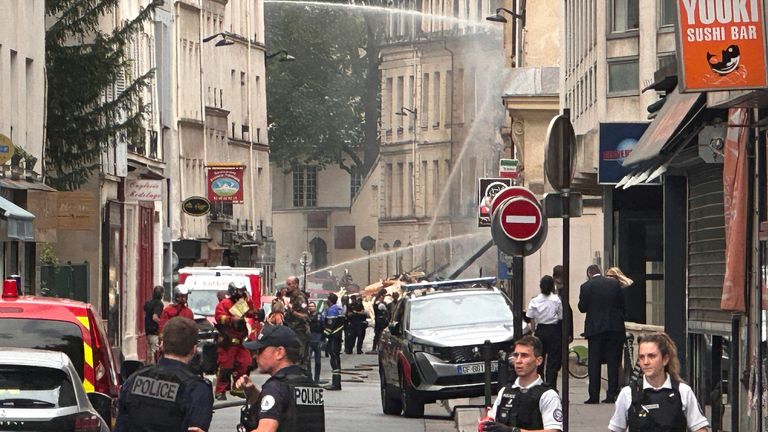 Rescue workers are looking for two missing people in the rubble, the Paris prosecution office said.
Paris police chief Laurent Nunez told reporters seven of those injured are in an "emergency condition".
"The explosion was extremely violent," she said, describing pieces of glass still falling from buildings.
The blast took place at 4:55pm local time (3:55pm UK time) and more than 200 firefighters have been involved in the emergency response.
BFM TV showed fire services trying to hose down a building and Parisians posted images on Twitter of a huge plume of smoke that was visible across much of the city.
Paris police chief Laurent Nunez said later that the blaze had been brought under control.
"I heard a huge explosion," local bar employee Khal Ilsey said. "And as I was leaving the restaurant, I saw flames at the end of Rue Saint-Jacques."
"I was at home writing…I thought it was a bomb," said art historian Monique Mosser, adding that many of the windows in her building had been blown out by the blast's shockwave.
"A neighbour knocked on the door and told me that the fire brigade were asking us to evacuate as quickly as possible.
"I grabbed my laptop, my phone. I didn't even think to get my medication."
Journalist Olivier Galzi told BFM TV that he had seen the facade of a nearby building "completely collapse".
"This is chaos," said Christopher Gaglione, who said he witnessed the scene.
Police have urged people to avoid the area.