Rescuers face a race against time to find the missing submersible that lost contact near the wreck of the Titanic as its oxygen supply dwindles.
British billionaire Hamish Harding is one of five people on board the submersible craft Titan, which went missing on Sunday in the Atlantic Ocean.
It is understood from the vessel's operator, OceanGate Expeditions, Titan has a 96-hour oxygen supply in case of emergencies – meaning only around two days of "life support" remain.
Footage of submersibles used to see Titanic

A major search and rescue operation is taking place, led by the US Coast Guard and involving military aircraft 900 miles east of Cape Cod.
The US Coast Guard warned the search had been "challenging" due to the remote location, some 435 miles south of Newfoundland, Canada.
Rear Admiral John W Mauger of the US Coast Guard said: "We launched a C-130 aircraft to search to conduct an aerial search, both visual and radar of the scene.
"We've subsequently coordinated with the Canadian Coast Guard and Canadian Armed Forces to deploy additional assets to the scene.
"The Canadians have had a C-130 aircraft searching as well, in addition to also having a P-8 submarine search aircraft deploy as well, and put sonar buoys in the water in attempt to listen."
The Titan lost contact with research vessel Polar Prince about an hour and 45 minutes into the vessel's dive on Sunday morning.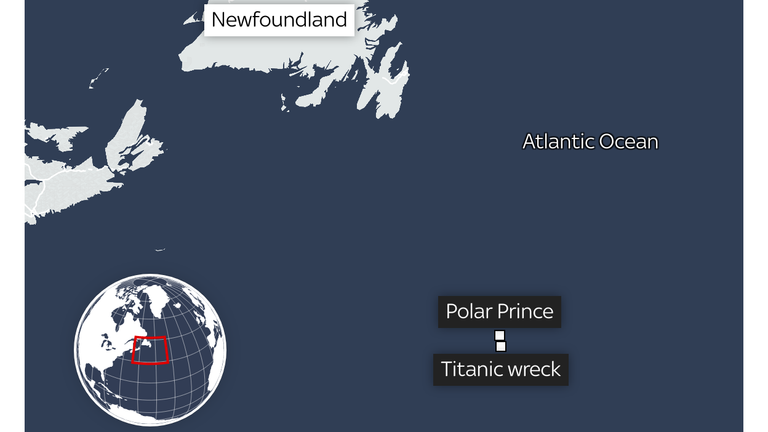 'Challenging' hunt for sub

Sky News understands that alongside Mr Harding, French submersible pilot, Paul-Henry Nargeolet, and chief executive and founder of OceanGate Expeditions, Stockton Rush, are also on board.
Pakistani businessman Shahzada Dawood and his son, Suleman, were also on board, their family said in a statement.
"We are very grateful for the concern being shown by our colleagues and friends and would like to request everyone to pray for their safety," the statement said.
'Major problem' facing rescuers
OceanGate said in a statement that it was "exploring and mobilising all options" to bring the crew back safely.
Read more: What we know about people on board missing Titanic sub
According to OceanGate, the Titan submersible is capable of diving 13,120ft "with a comfortable safety margin" and would take two hours to descend approximately 12,500ft where the Titanic wreck lies.
The vessel operates by pinging back a message every 15 minutes to signal to those ashore that it is safe. Sky News understands, however, that those pings have stopped.
Marine operations specialist Mike Welham outlined the difficulties in the search operation, adding that "very specialised underwater vehicles" would be needed to go to the depths of the Titanic wreck.
Mr Welham told Sky News: "The biggest problem they've got is the depth of water at the Titanic site.
"It's about 3,800m and you need very specialised underwater vehicles to go down to that depth and they're not really readily available. So they have a major problem if they have to search and recover this vehicle."
Robert Blasiak, ocean researcher at the Stockholm Resilience Centre, said: "The dream scenario right now is that the submersible has managed to reach the surface and it's just drifting at sea level and will be found by one of the passing aircraft in the coming hours. That's what we hope for.
"The coast guard is also preparing for a more challenging scenario using sonic buoys so they are able to use sonar to detect sound in the water column in case the submersible is at depth. That becomes an entirely different story.
"We have to hope (the submersible) has already reached the surface."
The submersible was taking part in OceanGate's third annual voyage to the monitor the decay of the ship's wreckage, following expeditions in 2021 and 2022.
Source of fascination
The Titanic sank into the Atlantic on 15 April 1912 during its maiden voyage from Southampton to New York after hitting an iceberg, with some 1,500 people dying in the disaster.
The wreck – discovered 37 years ago – is in the Atlantic about 400 nautical miles from Newfoundland in Canada.
It has been a continued source of fascination.
OceanGate Expeditions charges $250,000 (£195,270) for a place on its eight-day expedition.
Last month, the first-ever full-sized digital replica of the Titanic was created as experts said it could be used to unlock secrets of the world's most famous shipwreck.