UK billionaire Hamish Harding is one of five people on board a missing tourist submersible used to take people to see the wreck of the Titanic.
Sky News understands two others on board the vessel, named Titan, are French submersible pilot, Paul-Henry Nargeolet, and chief executive and founder of OceanGate Expeditions, Stockton Rush.
Mr Harding's stepson Brian Szasz, said on Facebook: "Hamish Harding my step father has gone missing on submarine thoughts and prayers.
"My stepdad Hamish Harding has gone missing on a submarine pray for a successful recovery.
"Thoughts and prayers for my stepfather Hamish Harding as his Submarine has gone missing exploring Titanic. Search and rescue mission is underway."
OceanGate Expeditions, a company that deploys vessels for deep sea expeditions, said one of its submersibles had gone missing in the Atlantic Ocean and that a search is ongoing.
The US Coast Guard said the 21ft vessel has five people on board, as the US Coast Guard North East said it is searching for the submersible approximately 900 miles off Cape Cod.
It added that the submersible lost contact with research vessel Polar Prince approximately one hour and 45 minutes into the vessel's dive on Sunday morning.
The main difference between a submersible and a submarine, is that the former needs a mother ship that can launch it and recover it, while a submarine has enough power to leave port and come back to port under its own power.
OceanGate said in a statement that it was "exploring and mobilising all options" to bring the crew back safely.
The Titanic sank in 1912 after hitting an iceberg and now lies 3,800m (12,500ft) under water in the Atlantic.
Action Aviation, an aviation sales and operations company which Mr Harding is chairman of, said on Twitter on Sunday, that the billionaire was "currently diving" and was part of the Titanic expedition.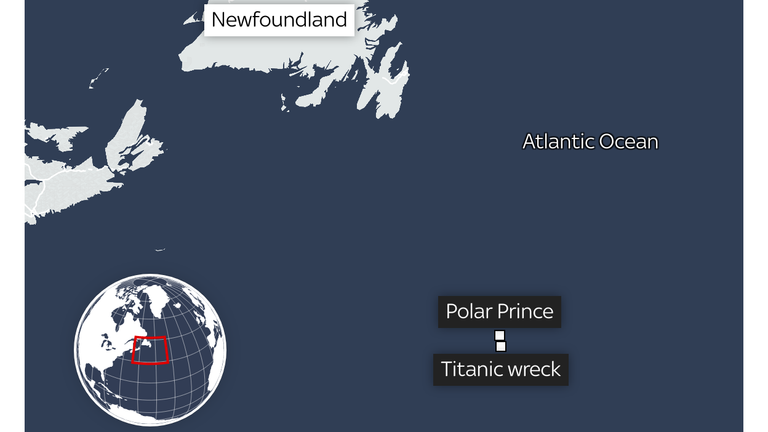 Foreign, Commonwealth and Development Office (FDCO) said: "We are in contact with the family of a British man following reports of a missing submarine off the coast of North America."
According to OceanGate, the Titan submersible is capable of diving 13,120ft "with a comfortable safety margin".
David Concannon, an adviser to the company, said Oceangate lost contact with the sub on Sunday morning. It had a 96-hour oxygen supply, he said in an email to the Associated Press.
Footage of submersibles used to see Titanic

The vessel operates by pinging back a message every 15 minutes to signal to those ashore that it is safe, however Sky News understands that those pings have not been heard for more than seven hours.
Tourists sometimes pay tens of thousands of dollars to be taken to the wreckage of the liner.
OceanGate Expeditions charges $250,000 (£195,270) for a place on its eight-day expedition.
OceanGate CEO Stockton Rush speaks to Sky News in February 2023

A marine operations specialist outlined the difficulties in the search operation adding that "very specialised underwater vehicles" would be needed to go to the depths of where the wreck is.
Mike Welham told Sky News: "The biggest problem they've got is the depth of water that the Titanic site. It's about 3,800m and you need very specialised underwater vehicles to go down to that depth and they're not really readily available. So they have a major problem if they have to search and recover this vehicle."
The Titanic sank on 15 April 1912 during its maiden voyage from Southampton to New York after hitting an iceberg, with some 1,500 people dying in the disaster.