Three Palestinians have died and 29 others have been injured during a raid by Israeli troops in the occupied West Bank.
Israel said its forces came under fire from Palestinian gunmen while attempting to carry out arrest raids in the city of Jenin on Monday.
Three Palestinians, including a 15-year-old boy, were among those killed in the incident, according to the Palestinian Health Ministry.
Israel's military said it launched the raid to detain Palestinians suspected of attacks against Israelis.
A helicopter was used in the operation – with a statement by military officials confirming that a helicopter opened fire during the fighting.
The Israeli military rarely uses aircraft in its operations in the occupied West Bank.
According to Israeli media, it is the first time a military helicopter has been deployed in the region since the early 2000s.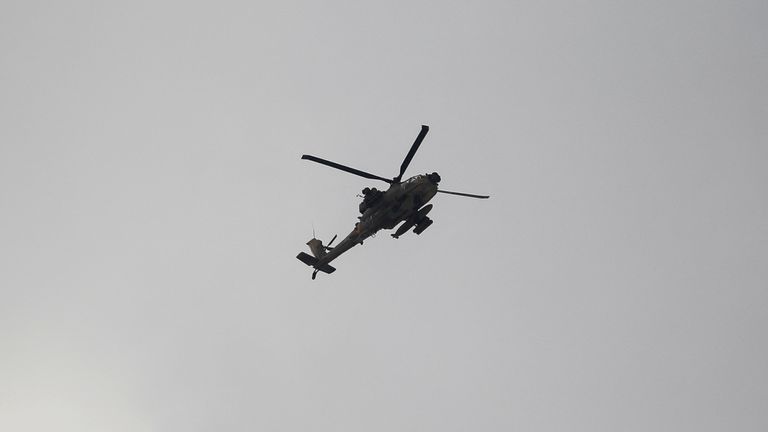 Officials also said one of its vehicles had been hit by a blast – but did not immediately comment on Israeli media reports that five soldiers were wounded in the incident.
"As the security forces exited the city, a military vehicle was hit by an explosive device, damaging the vehicle," the army said.
It added that helicopters "opened fire toward the gunmen in order to assist in extraction of the forces".
Read more:
Israel will do 'whatever we need to do to defend ourselves'
Three Israeli soldiers killed after incident on Egypt's border
The Palestinian Health Ministry identified those killed as Khaled Asasa, 21, Qassam Abu Sariya, 29, and 15-year-old Ahmed Saqr.
It said at least six others were seriously wounded in the shoot-out.
We'll 'do whatever' to defend Israel

The West Bank – which has been under Israeli military occupation since 1967 – has faced a year of near-daily violence amid rising tensions in the region.
Israel has been staging near-nightly raids in the West Bank, while attacks by Palestinian militants against Israelis have surged during that time.
Some 120 Palestinians have been killed in the West Bank so far this year, while Palestinian attacks against Israelis have killed at least 20 people during the same period.