Alexei Navalny – the jailed critic of Vladimir Putin – has appeared in court in Russia on new "extremism" charges that could extend his prison term by decades.
The Russian opposition leader is already serving sentences totalling 11-and-a-half years after being found guilty of charges – including fraud.
He now faces a new trial – including allegations of creating an extremist organisation – which is taking place at a maximum security prison in Melekhovo, 150 miles east of the Russian capital Moscow.
The 47-year-old says he faces up to 30 years in prison if found guilty of the charges, which he has previously described as "absurd".
During the hearing, he stood and spoke for about three minutes, contesting the authority of the judge.
"I believe that, taking into account the current circumstances, and of criminal law, you should withdraw," he said.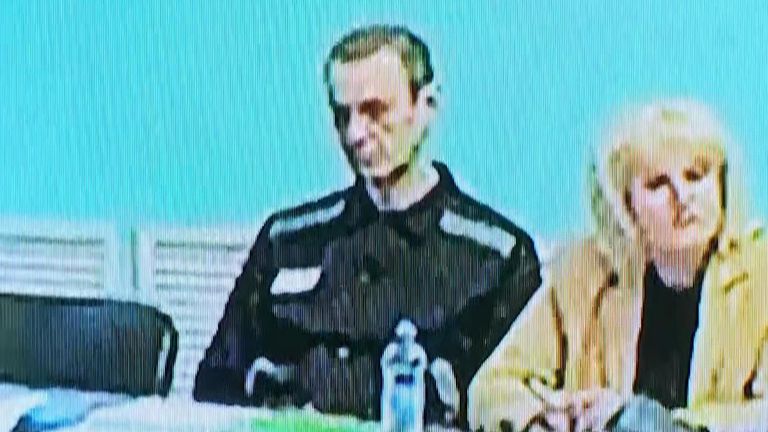 Reporters were not allowed into the courtroom during the hearing and watched the proceedings via video feed from a separate building.
Mr Navalny's parents were also denied access and followed the hearing remotely.
His supporters have accused Moscow of trying to break him to silence his criticism of the Russian president, which the Kremlin denies.
They have also accused prison authorities of failing to provide Mr Navalny with proper medical assistance and have voiced concerns about his health.
Asked about the case, Kremlin spokesman Dmitry Peskov said: "We are not following this trial."
In March last year, Mr Navalny was sentenced to nine years in prison after he was found guilty of large-scale fraud and contempt of court.
He was already serving a two-and-a-half-year sentence for parole violations related to charges he claims were fabricated.
Read more:
Navalny 'possibly being slowly poisoned' in prison'
Jailed Putin critic needs 'urgent medical assistance'
Mr Navalny, whose campaigning organisations have been banned in Russia as "extremist", is serving his sentence in a maximum-security penal colony at Melekhovo.
Earlier this month, Mr Navalny had his sarcastic demands to Russian prison officials for a pet kangaroo, a Russian musical instrument called a balalaika, and a bottle of moonshine liquor denied.
Mr Navalny was arrested in January 2021 after he returned to Russia from Germany, where he had been recovering from nerve agent poisoning.
He had fallen ill on a flight to Moscow and was subsequently found to have been poisoned with novichok during a campaign trip to Siberia.