US Secretary of State Antony Blinken has arrived in Beijing.
His arrival marks the first visit of a top American diplomat to China in five years, as relations between the two countries have become increasingly frosty.
Having postponed a February trip after a suspected Chinese spy balloon flew over US airspace, Mr Blinken is set to become the highest-ranking US government official to visit China since President Joe Biden took office in January 2021.
During his trip, he is expected to meet with Chinese Foreign Minister Qin Gang, China's top diplomat Wang Yi and possibly President Xi Jinping.
The aim of the visit is to establish open and robust communication channels between Washington and Beijing, and to ensure the American/Chinese strategic rivalry does not spiral into conflict.
"There's a recognition on both sides that we do need to have senior level channels of communication," a senior State Department official told reporters during a refuel stop in Tokyo en route to Beijing.
"That we are at an important point in the relationship where I think reducing the risk of miscalculation, or as our Chinese friends often say, stopping the downward spiral in the relationship, is something that's important," the official added.
Tensions between the two countries have ratcheted up over recent years, sparking fears they could eventually be drawn into a military clash over Taiwan, which Beijing claims as its own territory.
They are also at odds over issues ranging from trade, US efforts to hold back China's semiconductor industry and the ruling Communist Party's human rights track record.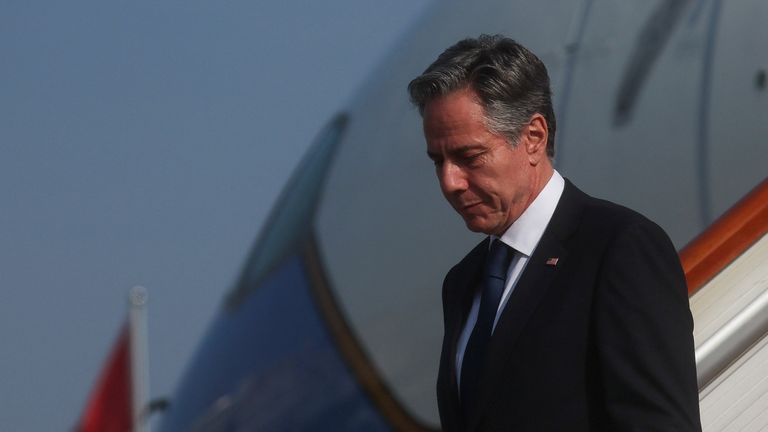 Speaking at a news conference on Friday before departing the US, Mr Blinken said the trip had three main objectives: setting up mechanisms for crisis management, advancing US and allies' interests and speaking directly about related concerns, and exploring areas of potential cooperation.
"If we want to make sure, as we do, that the competition that we have with China doesn't veer into conflict, the place you start is with communicating," Mr Blinken said.
He said he would also be raising the issue of US citizens detained in China on charges Washington sees as politically motivated.
However, US officials have already played down hopes of much progress being made in thawing relations between the two countries as a result of Mr Blinken's trip.
Read more:
Five key talking points at US-China talks as Antony Blinken visits China
Chinese foreign minister: US risks 'catastrophic' conflict
Bill Gates visit to China signals Beijing is open to a thaw in US relations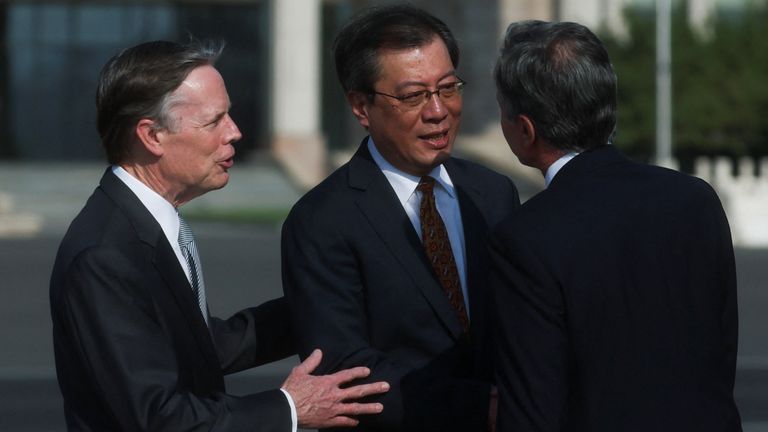 While Mr Blinken's main goal will be "candid, direct and constructive" discussions, the officials said, breakthroughs are not likely on any major issues, including the flow of fentanyl precursors and Americans detained in China.
But there is an expectation his visit will pave the way for more bilateral meetings in coming months, including
possible trips by US Treasury Secretary Janet Yellen and Commerce Secretary Gina Raimondo.
It could also set the stage for meetings between Mr Xi and Mr Biden at multilateral summits later in the year.