An 18-year-old teenager who survived after a fishing boat carrying migrants sank off the coast of Greece has been pictured in an emotional reunion with his brother.
Mohammad, from Syria, was seen crying and holding his elder brother Fadi's arms through a metal barricade at the port of Kalamata in Greece, where survivors had been sleeping for the past two days.
Fadi, who travelled from the Netherlands to search for his brother, said "Thank God for your safety", as he repeatedly kissed his younger sibling on the head.
Dozens more relatives gathered at the port hoping for news, clasping screenshots of their loved ones on their mobiles phones.
At least 78 people drowned and 104 were rescued after the vessel capsized about 50 miles from the southern coastal town of Pylos on Wednesday morning.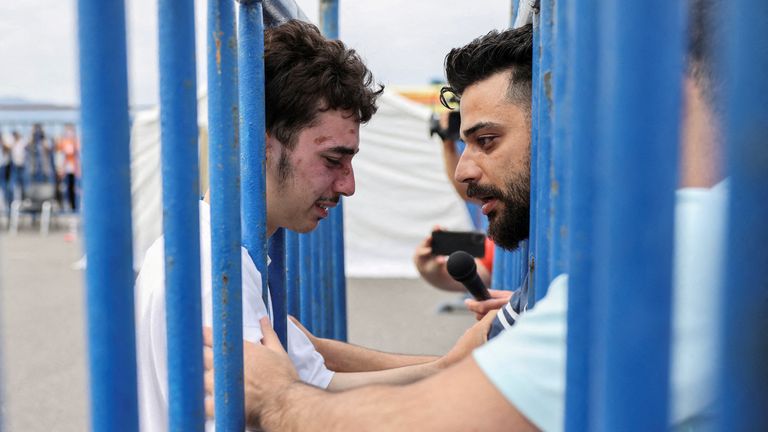 In the immediate aftermath of the disaster the survivors were brought to shore by Greek authorities, and the bodies of those who died recovered.
Witness accounts suggest between 400 and 750 people had packed the 20 to 30 metre-long fishing boat.
The ageing vessel was thought to have departed from Egypt, then picked up passengers in the Libyan coastal city of Tobruk on 10 June.
Nine people have been arrested over the shipwreck, a Greek shipping ministry official said.
Briton fears for migrant relatives

The exact circumstances of the vessel sinking while it was being shadowed by the Greek coastguard are still unclear.
Greek authorities and European Union border protection agency Frontex tracked the boat before it capsized and sank.
Authorities, who were alerted by Italy on Tuesday and subsequently monitored the vessel over a period of 15 hours before it sank, say occupants on the vessel repeatedly refused Greek help, saying they wanted to go to Italy.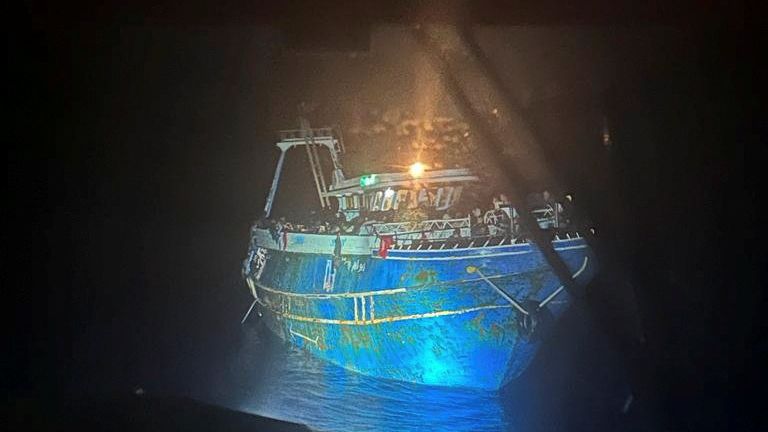 Read more:
Migration across the Mediterranean is a brutal throw of the dice
'My last chance at a second life'
Rishi Sunak claims his efforts to curb Channel crossings are working
Coast guard spokesman Nikos Alexiou, citing survivor accounts, said that passengers in the hold of the fishing boat included women and children but that the number of missing, believed to be in the hundreds, remained unclear.
Survivors who spoke to Greek authorities said they paid $4,500 each to go to Italy.
The United Nations has recorded more than 20,000 deaths and disappearances in the central Mediterranean since 2014, making it the most dangerous migrant crossing in the world.