English referee Anthony Taylor and his family were confronted by a group of Roma fans at Budapest Airport after the Italian side's defeat by Sevilla in the Europa League final.
Footage showed Taylor and his family being ushered out of a café and into a secure area by airport security after supporters hounded him following an ill-tempered final on Wednesday evening.
The clips show a chair and bottle being thrown in the direction of Taylor and his group, which included two females.
The English referees body PGMOL said in a statement it was "aware of videos circulating on social media showing Anthony Taylor and his family being harassed and abused at Budapest Airport".
"We are appalled at the unjustified and abhorrent abuse directed at Anthony and his family as he tries to make his way home from refereeing the UEFA Europa League final," it said.
"We will continue to provide our full support to Anthony and his family."
Sky Sports News has also contacted UEFA for comment.
Jose Mourinho confronts referee in car park

Former England footballer Rio Ferdinand said on Twitter: "I hope Anthony Taylor and his family are ok after that b*******.
"How has he been left to walk without security? All of the authorities have to start thinking worst-case scenarios, the way things are.
"Those thugs should be held accountable asap."
In a statement supplied to Sky News, Budapest Airport said an Italian citizen involved in the incident was "apprehended by the police and criminal proceedings have been initiated on charges of affray".
It added: "Fans of the losing Roma team recognised the referee in the food court of the airport, where he was waiting for his flight to depart.
"Thanks to the airport operator's close cooperation with the police and the increased police presence at the airport during the arrival and departure of the fans, the authorities intervened immediately, and the referee was escorted to a lounge and boarded his flight safely, accompanied by police officers.
"Budapest Airport and the police wish to make it clear that there is zero tolerance towards violence of any kind towards passengers or staff working at the airport."
Sevilla won on penalties to condemn Roma manager Jose Mourinho to his first defeat in a European final after a match which saw Premier League referee Taylor dish out 14 yellow cards, the most ever in a Europa League game, and play almost 30 minutes of stoppage time in total.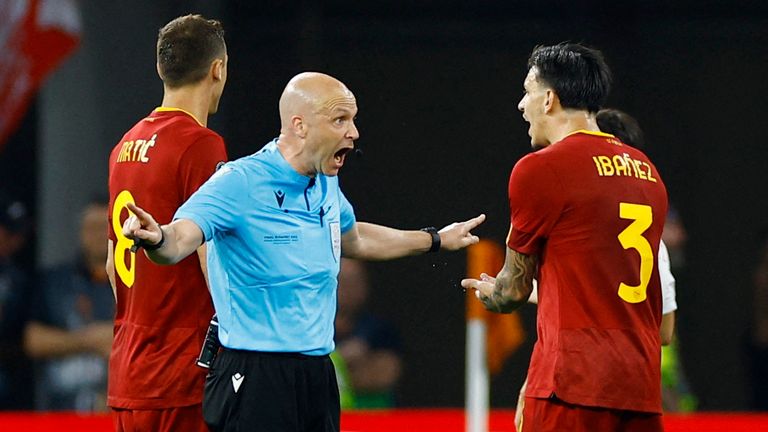 After the game, footage that has been shared widely on social media showed Mourinho directing a string of expletives towards the officials in the car park, labelling their performance a "disgrace".
UEFA are waiting on the referee's match report before deciding whether to take any action against Mourinho.
Former Premier League referee Dermot Gallagher praised Taylor's performance, telling Sky Sports News on Thursday: "I don't think he could've done anything different.
"He was tested over and over and over again. In all kinds of manners, physically and mentally."