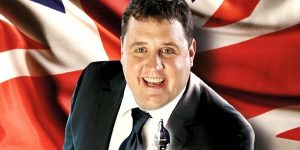 Tickets for Peter Kaye's eagerly awaited return to the stage have sold out within minutes.
The comedian will host two live Q&A sessions to help Laura Nuttall.
Laura, 20, has an aggressive type of brain cancer.
The two shows, called "Doing It For Laura", will be in the 3,500-capacity O2 Apollo Manchester on August 7th.
Both events – at 13.30 and 18.30 – sold out within half an hour of going on sale.
Ms Nuttall, who has just completed her second  year as a PPE student Manchester University, will be in the audience with her family.
Laura's mum Nicola Nuttall worked with Peter Kaye at Granada nearly 20 years ago.
She and husband Mark received an unexpected call from the star in January 2019 after Laura was diagnosed.
Mrs Nuttall said:
"We're so excited about it.
"And it's so wonderful he can do this for us, just incredible."